Website and Platform Goals
About GatewayC
GatewayC, an organization committed to advancing cancer education and early diagnosis, has been at the forefront of empowering healthcare professionals across England. Funded by the NHS, GatewayC provides free, evidence-based educational resources, guidance, and support to doctors, nurses, and caregivers.
Their previous website was also built in WordPress, but it was disconnected from their learning management platform, creating challenges in syncing users across the two sites as well as making reporting challenging. They wanted all their users, content and resources to live in one, easy to manage website.
In their search for a partner to execute their vision, GatewayC turned to us for help. They were looking for a digital marketing agency who had experience with the NHS and education, and the expertise to translate their message through digital marketing.
Together, we embarked on a transformative journey to rebrand, rebuild, and enhance their digital presence. This case study delves into the collaboration, challenges, and remarkable outcomes achieved during this mission.
Building on a Strong Foundation
Our collaboration began with a shared history. We had previously worked on the organization's older website and had connected their website to their Moodle Learning Management System (LMS). This initial partnership laid the groundwork for the profound changes to come.
We work hard to be responsive and our clients appreciate that. That quickness in responding to questions, queries and site issues is one of the reasons GatewayC selected us to work with them to build their new site.
Marketing NHS Education Through Technology
Revolutionizing the Brand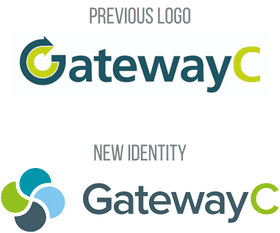 The first step was to breathe new life into GatewayC's brand identity. Through extensive discussions about the target audience, objectives, and preferred aesthetics, a modern and engaging brand was born.
We worked through multiple rounds of concepts, color palettes, typography and design elements to find the best combination to position GatewayC as a leader in cancer education.
The new logo, vibrant colors, and versatile typography were meticulously designed to ensure they shone on all devices, print materials, merchandise, and signage. These elements were seamlessly integrated throughout the website, serving as design embellishments to captivate users.
Empowering with Tools
We leveraged cutting-edge tools such as Elementor Pro, Gravity Forms, and Advanced Custom Fields (ACF) Pro to facilitate user registration and data collection. These tools not only streamlined the user experience but also provided GatewayC with valuable user insights for more targeted marketing efforts.
One of the standout achievements was the creation of a user dashboard, a custom feature designed to enable users to effortlessly access their courses, monitor progress, and find essential information. This bespoke solution enhanced the user experience, making it easier for healthcare professionals to engage with the platform.
Taking Control: Hosting and Data Ownership
A pivotal moment in the project was the decision to host GatewayC's website on a dedicated server in our London datacenter. This strategic move not only significantly improved site performance but also allowed for quicker updates and data management.
GatewayC gained full control and ownership of their data, a stark contrast to their previous experience with a third-party hosted Moodle environment.
Now, GatewayC has quick, full access to user and course data in the same place, and not spread out as it was previously. This has made measuring KPIs and reporting more straightforward for the team.
On a technical level, we implemented fast Redis and Varnish caching to ensure learning content reaches GatewayC users quickly and efficiently. The optimization doesn't stop there – we also serve their images in next-generation formats, making the images more streamlined to reach users even faster than before.
LearnDash: A Powerful Ally
The adoption of LearnDash as the Learning Management System brought substantial benefits. The first is a vastly improved user interface for learners. It granted GatewayC more comprehensive access to course data and user management, enhancing their ability to deliver high-quality educational resources. The courses, vital for continuing medical education, benefited from features like certificate generation and progress tracking, enriching the learning experience for users.
Additionally, LearnDash provides:
A user dashboard to show a learner their course progress
A robust ecosystem of extensions and add-ons to add additional functionality
Streamlined user and course registration
Seamless Integration and Streamlined User Experience
Previously, GatewayC's website and Moodle were hosted on separate servers and providers, resulting in fragmented user experiences. The goal was to build a cohesive platform, a one-stop-shop for frontend and backend users alike.
Moving from Moodle to LearnDash, especially for courses offered in both English and Welsh, presented significant challenges. However, with guidance from our technical team and GatewayC's dedicated staff, including medical professionals who meticulously reviewed every course, we partnered for a smooth transition.
With the migration to the new platform, everything is now seamlessly integrated. Users no longer have to navigate multiple websites and logins, fostering a more unified and engaging learning journey. New logos, graphics, colors, and layouts were updated for each course, ensuring a consistent, visually appealing learning environment and mirror GatewayC's new modern brand identity.
International Expansion and a Bright Future
By empowering healthcare providers with knowledge and resources, this partnership has contributed to improved health outcomes for people across the UK.
Through this project:
We created foundational design work that has not only revitalized GatewayC's website but also empowers GatewayC to maintain a cohesive and engaging brand presence across various media.
Our team developed a new WordPress website, hosted on a dedicated server local to the UK, to carry through the new branding, deliver important cancer education resources, and engage with a streamlined user experience.
We partnered to build a custom e-Learning platform that's easy to use, manage, and track through powerful integrations, giving GatewayC all the control and data they need to make informed decisions for the future.
GatewayC's new platform, designed and developed by our marketing experts, has positioned the organization for international expansion. With a flexible infrastructure ready to accommodate new countries, GatewayC is set to continue its mission of sharing early cancer resources and education.
GatewayC's future planned expansion is a testament to the scalability and adaptability of the platform. Digital marketing has the potential to drive positive change and make a meaningful difference in healthcare education. We are honoured to be part of the charge.